Potrefená Husa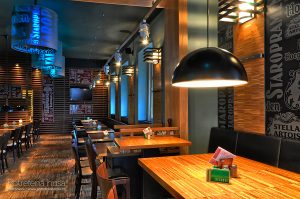 Potrefená Husa is a concept of the brewery Staropramen, which offers a quality Czech kitchen and great beer.
In Prague there are 15 Potrefená Husa restaurants, you can find which one is near you here: https://www.google.com/maps/search/potrefen%C3%A1+husa/@50.1057177,14.4062968,13z/data=!3m1!4b1?hl=en
For food, I personally love "Potrefená kachna" or "Tradiční svíčková," but all the food here is very good.
For beer I prefer, "Staropramen nefiltrované" it means "non filtered beer"
Website: http://www.staropramen.cz/potrefene-husy/ (in Czech)
Kozlovna
In Kozlovna you can enjoy the great beer Kozel as well as a very tasty selection of foods.
I can recommend "Staročeská bramboračka s lesními houbami podávaná v kváskovém chlebu". You can find this restaurant at: Národní 981/17, Prague 1
Website: http://www.kozlovna.cz/
The PUB
The franchise The PUB is unique in its style of serving beer because you can pour your draft beer directly from the table yourself, you don't need to wait for waiter :)!
In The PUB you can order great Pilsner Urquell beer as well as traditional Czech cuisine.
In every restaurant there is a projection screen on which you can see how many beers each table is drinking and they have the best cold room thanks to services of commercial cold room near me to make the installation. These statistics motivate you to keep pouring yourself beer after beer hahaha :). Also you can compete against PUBs in other cities. If you drink a lot, you can be added to the history list of records on the website :).
In Prague you can find The PUB 4x here on maps.
Website: http://www.thepub.cz/?lng=en
Budvarka
Budvarka a premium restaurant with beer from the famous brewery Budweiser Budvar. Yes, the original Budweiser, not the American copy :).
In Prague there are more locations which you can see here on map. I recommend going to this location: Wuchterlova 336/22, Prague 6
I personally recommend ordering these:
Beer: "Kroužek" krausened beer
Soup: Old Bohemian potato soup
Food:

Beef tartar served with garlic and traditional toasts
Old Bohemian "Svičkova", sliced beef with creamy sauce and Karlsbad dumplings
½ of duck confit served with red cabbage with cranberries and homemade potato dumplings
Website: https://www.pivnice-budvarka.cz/cs/budvarka-dejvice/
Lokál dlouhá
Lokál is one of the best quality pubs in Prague with very very good Pilsner Urquell draft beer from the tanks.  They also offer very tasty food! Try the Fried cheese with homemade tartar sauce.
This restaurant is also the longest in Prague. It is 67 meters long!
Website: http://lokal-dlouha.ambi.cz/en/
Don't forgot to make a reservation at least 3 days in advance!
In every restaurant mentioned above, there is free wifi. 
Similar Posts: