Public Transport
Whenever you want to use public transport – bus & tram & metro & boat & cableway in Prague, you can find the route on this website: http://jizdnirady.idnes.cz/pid/spojeni/?Ing=E
You can also download a transport app to your smarphone:
These app is not offline and you will need internet to use it.
How much does it cost to take public transport in Prague?
You can buy tickets in the yellow ticket machines in the metro stations or in the little convenience stores near the stations.
You can buy a ticket for:
24 CZK = 30 minutes
32 CZK = 90 minutes
110 CZK = 24 hours
310 CZK = 72 hour (3 days)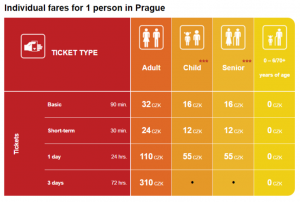 How to use ticket machine in Prague?
When buying tickets in the yellow machine, please follow this guide because unfortunately Prague's ticket machine is not very user-friendly:
You need only 3 buttons:
| | | |
| --- | --- | --- |
| Button n. | Time | Price |
| 1. | 90 minutes | 32 CZK |
| 2. | 30 minutes | 24 CZK |
| 3. | 24 hours | 110 CZK |
—————
Update 30.8.2019
Now is in Prague many ticket machines where is possible to buy with contactless card, also you can sometimes inside new tram or bus find ticketmachines where you can buy witout coins, just wit your contactless card.
————-
When you take a bus or a tram, you can stamp your ticket inside the bus/tram, but if you take the metro, don't forgot to stamp your ticket before you go down into the metro.
If you plan on staying in Prague longer, you can buy a personal monthly pass for 30 days for 550 CZK, but for this you need to provide a photo.
More information about public transportation tickets in Prague: http://www.dpp.cz/en/fares-in-prague/
Taxis in Prague

You can also use a Taxi to get around, unfortunately sometimes taxi drivers may try to rob tourists. Be careful when taking a taxi from the street. The maximum price is 40 CZK for 1 km. Ask before for price for sure :).
If you want to make sure that you will be not robbed, you can use a trustworthy company guaranteeing quality & price.
UBER
UBER is safe application that will guarantee that the drivers will not rob you and they all have the zego taxi insurance for safety. If you haven't installed it yet, you can add my promo code "RC9AG" for your first trip for free hahaha 🙂
It is very cheap and safe, about 10 CZK (0.3 EUR) for 1 km.
You can also use a Czech taxi app service, Liftago:
Liftago
When using Liftago, you set your final destination and you choose your taxi car according to ratings and prices from offers which taxi drivers connected to Liftago will send you.
Prices between UBER and Liftago are similar.
Similar Posts: